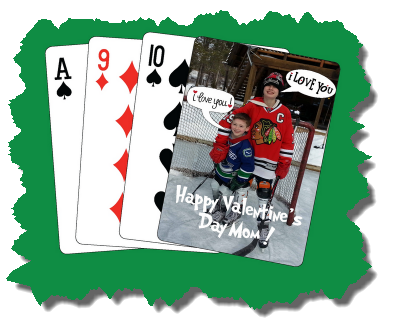 Custom Playing Cards
No. of Different Images: 1
Design your own deck of custom poker-sized playing cards in minutes with our NEW slick online designer! Add photos, clip art, shapes, text, colours, designs or anything you can think of. You will have complete control over all elements of your design. You say you are not very creative? Then simply upload a favourite photo and be done, or choose an editable design from our ever growing gallery of templates; tweak it a bit and call it your own! Either way, they're going to love it.
Full Deck - 12 Custom Face Cards
No. of Different Images: 13
This full deck of 54 poker sized playing cards is very popular for weddings and corporate promotional decks. You can use up to 13 main images to customize 13 different cards: the 12 face cards (all the jacks, queens & kings) and the common card backer.
Simply replace our stock photos with yours and choose whether or not to use one of our pre-loaded card frames or borders and you're done.
You can add as many photos, images, and graphics as you want to each of the editable cards.
You do not have to add photos to each card if you don't have enough. Simply delete our placeholder image to display the typical playing card picture for the card.
The remaining cards (Ace-10 and 2 Jokers) are not editable.
Playing Card Box
Custom Printed Tuck Boxes
No. of Different Images: unlimited
Add an extra touch of class and personalization to your playing cards by creating a stunning matching tuck box.