Products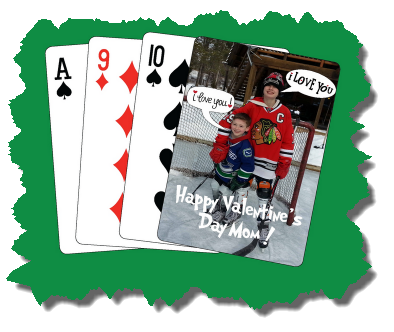 Custom Back Only - Playing Cards
No. of Different Images: 1
Design a CARD BACK for your own FULL DECK of custom poker-sized playing cards in minutes with our NEW slick online designer! Add photos, clip art, shapes, text, colours, designs or anything you can think of. You will have complete control over all elements of your design. You say you are not very creative? Then simply upload a favourite photo and be done, or choose an editable design from our ever growing gallery of templates; tweak it a bit and call it your own! Either way, they're going to love it.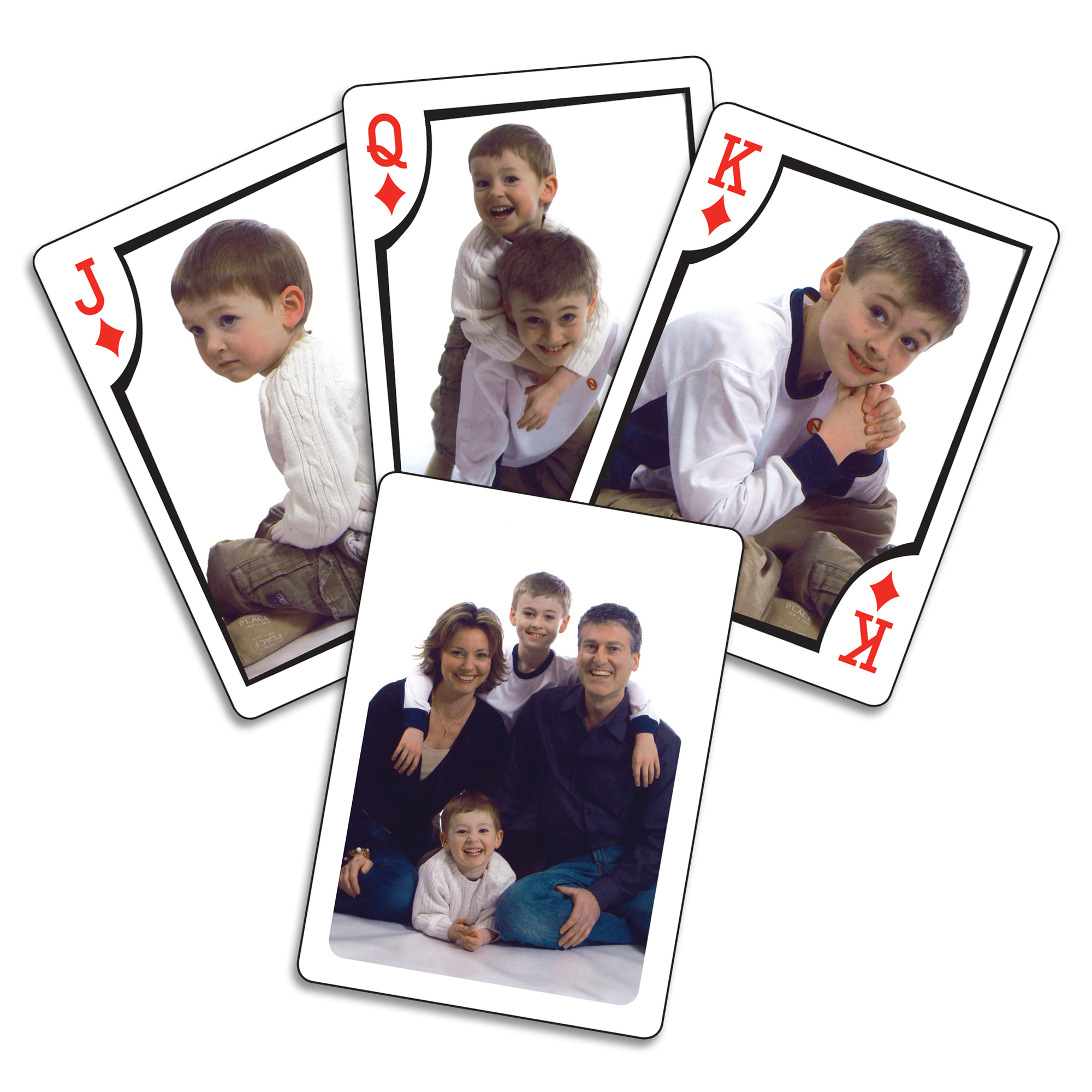 Full Deck - 12 Different Face Cards
No. of Different Images: 12+1
This full deck of 54 poker sized playing cards is very popular for weddings and corporate promotional decks. You can use up to 12 main images to customize the 12 different face cards; all the jacks, queens & kings. The common card backer will also need a photo or design to complete your deck.
Simply replace our stock photos with yours and choose whether or not to use one of our pre-loaded card frames or borders and you're done.
You can add as many photos, images, and graphics as you want to each of the editable cards. Some people have created collages or a mini-photowall on each card to cram in as many photos as they can.
You do not have to add photos to each card if you don't have enough. Simply delete our placeholder image to display the typical playing card picture for that card.
The remaining cards (Ace-10 and 2 Jokers) are not editable on this particular product.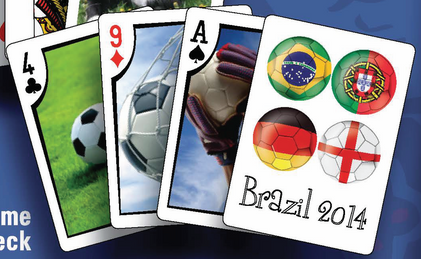 Custom Game - 54 Cards
No. of Different Images: 54+1
With this option you can add artwork and customize 54 cards. that's 54 different images or designs! If you include the common card back image, you can have 55 different images. YOU MUST create the entire artwork for both sides of the cards. This carousel-item is typically used to create a new custom game that you have invented. WE WILL NOT BE ADDING ANY NUMBERS, SUITS, JOKERS or ANY PLAYING CARD INFO. It is all up to you what is included.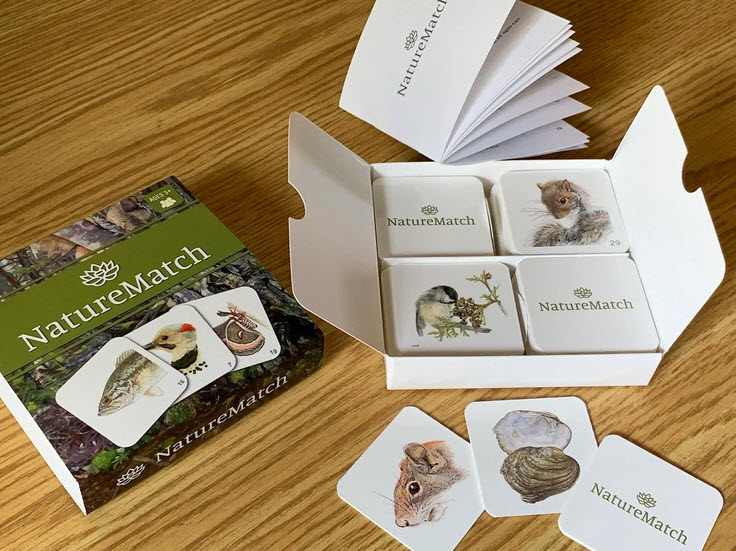 Nature Match

Challenge your memory by matching pairs of birds, mammals, fish, insects, and shells. A learning experience for all ages as the NatureMatch booklet explains what is special about each creature.
Winner of the Canadian Nature Federation's
ROBERT BATEMAN AWARD
,
Aleta Karstad has selected 36 of her favourite wildlife portraits in watercolour to share her fascination with nature's enchanting diversity.
Welcome to NatureMatch
Engage your friends and family with this simple memory game in the age-old tradition of "Concentration". Find the match to each delicately painted bird, mammal, fish, amphibian, or insect, as you learn their names and what makes each species special.

A hands-on nature experience indoors or out
exercise your memory with exquisite nature portraits
In these times of increasing electronic information and recreation, people of all ages need to get offline to enjoy the tactile experience of a hands-on game once in a while - maybe even often!
This is a stocking item and cannot be customized at this time.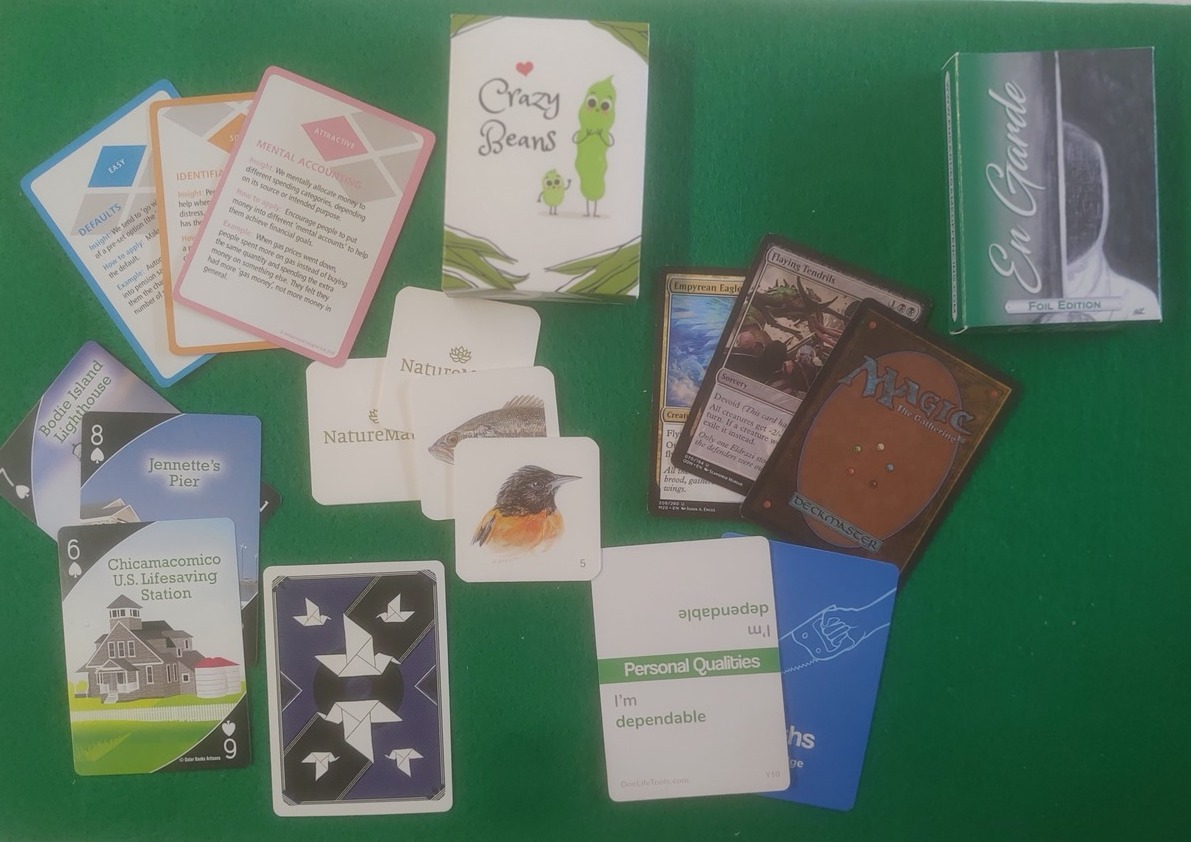 Only $10
Sample Pack #1
A $10 Gift Card is Included !
This is a sample pack containing various playing cards, tarot cards, gaming cards, mini-cards, tuck box, puzzle pieces, gaming tiles etc. For those of you who are not in a panic for your finished product or you are curious about our print quality, paper, card or tile stock thickness and quality, then this is a must-order item. It also comes with a $10 gift card, valid for 90 days, that can be applied to any future online product purchase.
BONUS : Custom Single Card Sample!
Create any custom card back to be printed on a random poker sized playing card.
As part of the sample pack, you will receive a random playing card, the queen of hearts for example, with your own custom design on the back, so you can see exactly how our system works or to test our print quality with your own artwork.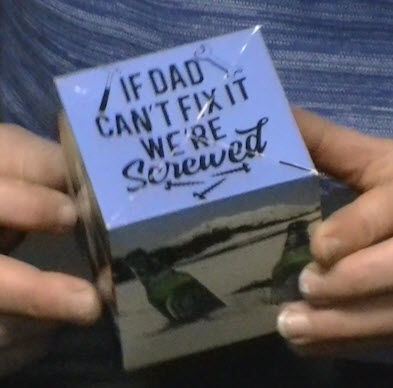 Popup Gizmo
A unique mailable photo gift surprise. When the recipient removes the photo card from the envelope and sleeve, it instantly POPS into a 3-dimensional cube. The sides of the cube showcase your chosen photos or messages. This product will really leave a lasting impression.
Click to watch it in action on YouTube
Aleta Karstad
A select offering of products designed by Aleta Karstad.
We are featuring them in our store for others to enjoy.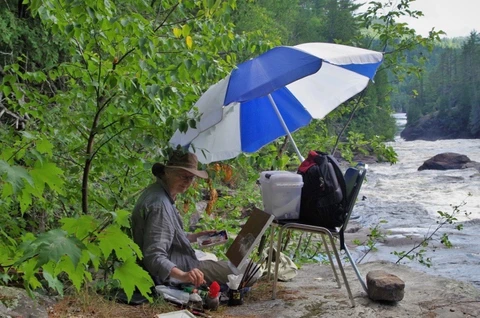 ALETA KARSTAD is an artist of the out of doors. With her husband, biologist Fred Schueler, she has been exploring and documenting nature in Canada for over 40 years. Since 2009, her blog has showcased the results of their art and exploration.
Here, science, art, and conservation come together. Aleta's paintings glow as you scroll through her online gallery and blog, and there are many surprises, as her subjects are not all landscapes! Equally enthralling are accounts of how she does them. Alongside the art are journals of adventures in on-site "en plein air" painting, and new discoveries of rare species, invasive aliens, and ecological change.
in 2018, Aleta's work is celebrated by the Canadian Wildlife Federation's Robert Bateman Award. Since 2010 she has been "Artist in Residence" at the New Brunswick Museum's BiotaNB surveys, resulting in a growing body of Karstad paintings in the museum's collection. Drawing artists together to paint outdoors to inspire and raise funds for wilderness protection is a passion for Aleta. She instigated, planned, and participated in artists' retreats with the Ottawa Valley chapter of the Canadian Parks and Wilderness Society in 2017 and 2018, sparking locally the growing global movement of artists protecting natural areas.
Aleta is a member of the international association of Artists For Conservation, and a lifetime member of her local artists guild, as well as being active on committees for wildlife conservation at South Nation Conservation and the Ottawa Field Naturalist Society.
Join in discussion by leaving comments on Aleta's blog of paintings and journals, and purchase Karstad paintings here to support art & science in the exploration of Canada.
Website Instagram FaceBook LinkedIn Blog
These items are pre-printed as you see them and cannot be further customized.
Prices are set by the artists and designers themselves.
Are you interested in bulk or wholesale purchases of this item for resale or promotional purposes?
If so, please use our custom quote request form